Sarasota High School Theater Program
We Are What We Represent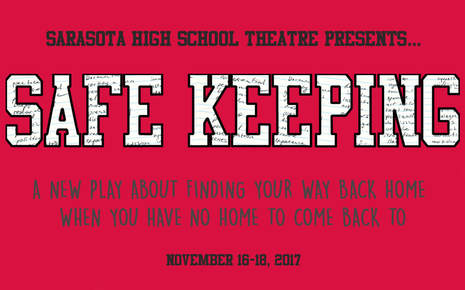 Tickets on sale for our Original Fall Show "Safe Keeping"
​Click Below

SHS THEATER NEWS
Student Events Coming up in August

Thriller
Make-up Certification Class
Will be on Tuesday October 24 from 6:00pm - 8:00pm. All parents and alumni who are new to Thriller Makeup and are planning on doing makeup on Halloween must attend this class.

THRILLER PRACTICE
Friday October 27, 2017 2:30pm - 3:30pm
All members of the 2017 Thriller Team MUST be at this practice or they are off the team. It is on the football field.

​Fall Show "Safe Keeping" Volunteers
We are in desperate need of parents to sign-up for bringing in Dinners, Salads, being Servers for dinners, and Concessions for the fall show. We are trying not to have another MANDATORY parent booster meeting by filling all the volunteer positions in advance. Please help us by going to the SHSADA link under menu and signing-up!!
​
Mandatory Parent Volunteer Hours
All parents of cast members must volunteer a total of 6 hours for the production there student is in. Under the SHSADA parent link under Menu you will find a list of things parents can do to meet the 6-hour requirement that was listed in the student's production contract.
Any student whose parent does not fulfill the 6-hours (either the student has to work them off or they cannot audition for the Spring musical)
​


Productions
In the Sarasota High School Theater program we do two or more productions a year. At least one of the shows, most commonly the fall show, is our straight play. Past productions have been "Twisted Fairy Tales", "The Adventures of Tom Sawyer", "It's a Wonderful Life" and "Miracle on 34th Street" . We also do Musicals. This is usually in the spring, and past musicals include "Beauty and the Beast", "AIDA" and "Les Miserables". These are just a few of the productions we have done. If you want more information, check out the Fall Show and Spring Musical links in our menu list or feel free to email one of our drama teachers- Mrs. Lacey Knispel (Fall Show Director) and Melissa Dweck (Spring Musical Director).
Improv Underground
Sarasota High School is the only high school in Sarasota County to have their very own Improv troupe. Throughout the year, they meet regularly and perform at least four shows- two short form and two long form. They work year round with as a group and with masters of the craft- these kids are seriously funny. The Improv Underground Troupe meets after school, but there is also a class that students can take during school hours if they are interested in honing their skills. Contact Mrs. Lacey Knispel for more information.
Thriller
One of the most popular events in the SHS Theater Department is the annual Thriller Night. Over 200 students audition for a spot on the SHS Zombie Team. There is both a Elite Travel Team and a Halloween Team that both perform. We have done as many events as 12 in a season, such as being featured on Sarasota's The View, as well as being live on the Lulu and Maverick radio show. We have appeared in Newspapers across the country from California to Georgia and New Hampshire. The theater students learn Michael Jackson's Thriller in their drama classes every day for two weeks and then have an audition. We take anywhere from 80 to 100 students. On Halloween day they get done up in Professional Zombie makeup using latex and airbrushing and complex facial designs, thought up by the students. Once their makeup is complete we descend onto St. Armand's Circle where we Zombie walk and perform Thriller for over 6,000 guests. For more information you can contact the teacher in charge of Thriller Ms. Melissa Dweck
Holiday Dance Team
The Holiday Dance Team is a group of students who audition to do the St. Armand's Christmas Tree Lighting where they dance under the Christmas tree and assist along with the SHS Chamber Choir sing Christmas Carols as the tree is lit. They also appear on the parade route for the Sarasota Downtown Holiday Parade dancing on a Holiday Themed Float. The students usually learn three holiday dances. We have done dances in the style of Jazz, Contemporary and this past year a great Swing Number. In order to audition for this event you just have to show up with a partner for auditions.
Where We Are Located
Sarasota High School
2155 Bahia Vista Street
Sarasota FL 34239
​*The theater parking lot is on Tami Sola