Sarasota High School Association for the Dramatic Arts
Theater Boosters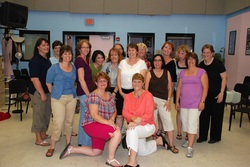 The SHSADA was founded in 2003, by a group of parents who were interested in supporting their children in their love of theater. The purpose of this group is to get parents involved in the after-school program through chaperoning field trips, helping backstage, constructing sets for the shows, bringing in food, fundraising and most important being our voice to the community and the school.

All Booster meeting's last only 1 hour and we are going to try, as long as all parents use sign-up.com to volunteer to not have booster meetings every month, however when when we have a meeting they are mandatory for all parents of students involved in the after school productions and any parents of students who want to attend Theater Field Trips otherwise students will not be able to be involved in the theater program.


Thriller Meeting
This meeting will be for students and parents who are selected to be a part of the 2017 Thriller Team. It is a mandatory meeting if a parent or student do not show up to the meeting then the student will be removed from the team and their spot offered to an alternate.

Wednesday October 18, 2017

---

Important Information
Get Volunteer certified
(You can print this form and send it in with your student and we can get you pals certified or you can come to any school office and do it yourself



---

Membership
In order to vote or have a say in the dealings of the theater booster club, Sarasota High School Association of the Dramatic Arts (SHSADA) a membership fee must be paid.
$10.00